Your Dog.
Your Life.
Let's Go.
Unleash adventure with the perfect K9 companion - our hiking harness and backpack combo!
fully funded on indigogo
Daily Herald
Suburban Chicago's Information Store
"A new style of dog backpack: one that focuses on conserving weight, minimizing bulk, and optimizing fit to minimize slipping."
Mammoth Times
The award-winning newspaper of Mammoth Lakes & the Eastern Sierra
"The new DOGPAK K9 backpack is changing the face of dog adventure."
The Cowboy Channel
The Official Network of Pro Rodeo
"Ultralight, waterproof, and form-fitting, this dog backpack is a first of its kind."
The American Rodeo
America's Rodeo Resource
"DOGPAK, a Swiss-based outdoor K9 gear company, has launched its new hiking harness and backpack for dogs, bringing canine equipment to the forefront of the fast-growing trend of ultralight hiking."
Highly Water Resistant
In rain, dew, snow, or when your pup decides it's time for a dip in the creek!
PU2000 fabric coating
Weather proofing and Kevlar® abrasion resistance
PU coated YKK zippers
Welded tie-down patches and Fully taped seams

Highly reflective trim & stripes
Supreme visibility in city or mountains
High performance Kevlar
Ultralight abrasion resistance
Ultralight K9 day pack
Centers load on shoulders, reduces weight, and works as a walking harness

Prevents slipping
Elastic tensioners sewn in cinch straps allow snug fit while hiking
Relieves musculoskeletal issues
Even weight distribution, elbow mobility, and improved balance
7 Adjustable, breathable pads
Provides custom comfort with airflow and quick-dry
Our Story
As a family-owned outdoor K9 gear and content company, DOGPAK is fueled by the nostalgia of our founder's personal travels around the world with their beloved service dog, Thunder. Over 13 years, we hiked across 45 states and 30 countries, and discovered that the most cherished memories were created during the challenging and unpredictable moments—the missed switchbacks, the moonlit nights, and the misty mornings. These are the moments that brought us closer together and inspired us to start DOGPAK.
We believe that our furry companions deserve the latest and greatest technology in their gear, just like we do. That's why we designed the first ultralight dog daypack with the latest technology for your furry friend. It's slim, lightweight, and versatile for daily use or adventures, keeping your pup safe and comfortable.
Our mission is to help other dog owners create similar memories with their furry companions by making it easier to explore the outdoors together.
DOGPAK is dedicated to making it easier for people to create unforgettable adventures with their furry companions because we believe that the bond between humans and their dogs is truly special.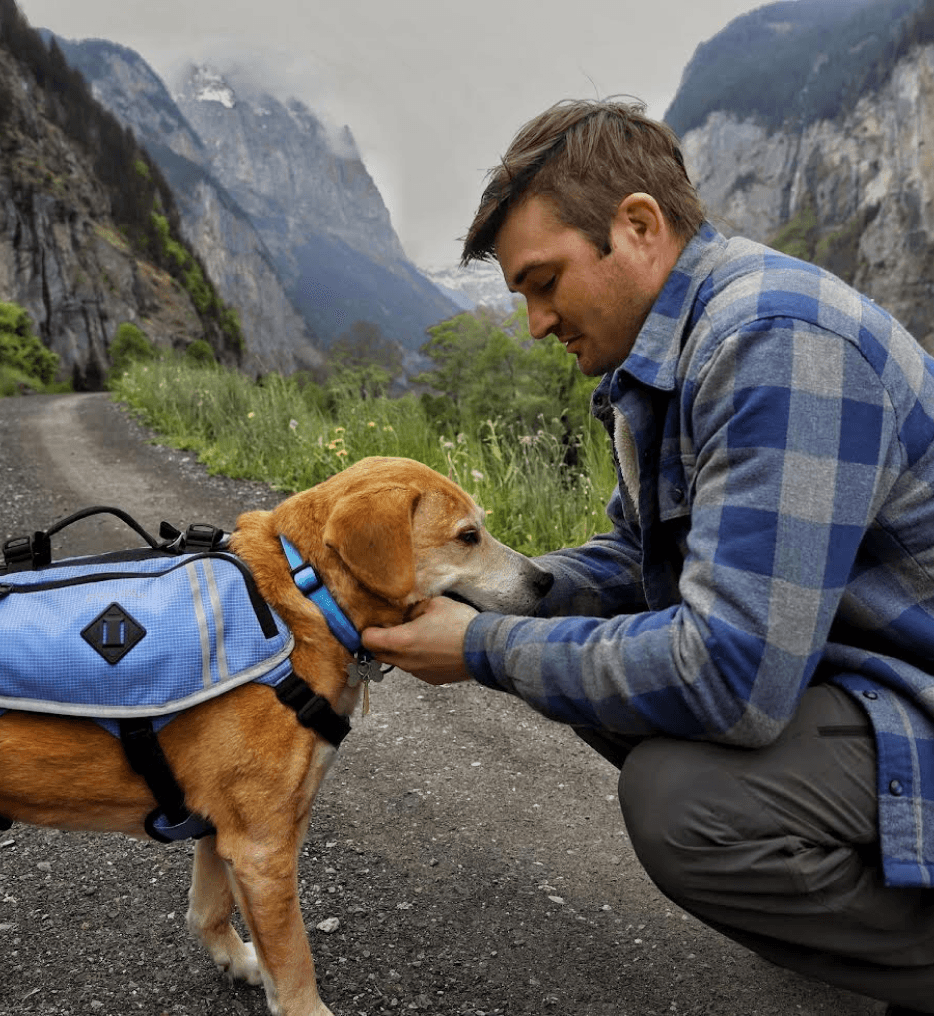 JOIN THE DOGPAK
Start your next adventure with our detailed email series on backpacking, hiking, and traveling with dogs.
fully funded on indigogo